Damn Rhinestone Bobby Pin
If you don't love it, return it within 90 days for a full-refund - just contact us and we'll take care of you
Benefits
Single "DAMN" bobby pin in block font
Hematite plating with pave rhinestones
Each item comes in a black KitschXJustine box
{ var st = window.pageYOffset || document.documentElement.scrollTop; show = st > lastScrollTop; })" class="add-to-cart-footer p-3 bg-white text-black fixed bottom-0 w-full z-20 shadow border-t">
"Fashion and function effortlessly come together"
"Now, their designs are seen on every Insta-girl and celebrity alike..."
"in recent years, the accessory has made a major comeback..."
"it truly does wonders to your hair and skin. This is one from Kitsch is vegan-friendly"
We believe that everyone should feel confident when purchasing our products no matter your hair type, style, or budget.
- Cassandra Thurswell, CEO
That was 2010, when we wrote a business plan no longer than a paragraph. Since then, Kitsch has grown, but we've stuck to the practice of consistently creating beauty solutions that are elevated in quality and sustainability, supporting our community even as the world continues to change around us. That's how we went from selling hair ties door-to-door, to selling a full range of beauty favorites in over 20,000 retail locations.
It's our job to create a support system you can get a boost from any time you need it. It's your job to treat yourself well and do your best every day, whatever that looks like. 
Customer Reviews
Nakisha R.
United States
IrCALove
United States
Krista
Portsmouth, Ohio, United States
Brandi S.
Lake Stevens, Washington, United States
03/04/2020
Drippin Glam
I reviewed my "Glam" Bobby pin before this review and I keep on loving this brand more and more! These Bobby pins are creative genius to make a statement to your hair! I'm planning on buying "vibes"next! I do have to point out I love the customer service and satisfaction of this company. The owner of this brand Cassandra emailed me saying thanks for the review and in return I figured I'd write another Glamorous review about her products ;). I can't wait till my collection gets bigger with her products. These Bobby pins were my first online order with kitsch. However I bought the satin pillowcases in store and I love them as well! Keep up the great work Cassandra! Your Killin it!!!!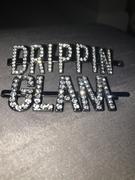 11/30/2019
Gorgeous queen bobby pin
I had bought two from Sephora and loved them came on this site to see if they have more. A definite statement piece. Unlike similar types of clips this one is great quality heavier and much more sparkle. I have the queen, bo$$, GLAM. I get so many compliments about them! I'm Not sure why the site rotated the picture but they are beautiful.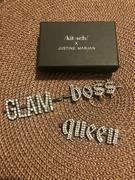 Leanne S.
Hawthorn East, Victoria, Australia
OM
Ajman, Ajman, United Arab Emirates
Amina
Brooklyn, New York, United States